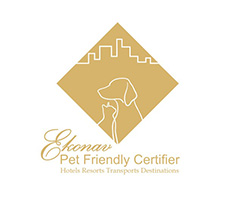 The training seminars offered byEkonav in collaboration with the educational group dp studies and which certify the adequacy of knowledge for the transport, hospitality and care of pets, offer a comprehensive and thorough theoretical background, covering a wide range of valuable knowledge.
The training received by those who attend these seminars is a prerequisite for the award of the Ekonav Pet Friendly Certifier and ensures the high quality and reliability of this certification.
By attending the training seminars, the staff of the companies that are certified as Pet Friendly, will be able to properly take care of the ideal conditions for hosting the pets, following all the international standards and the legislation.
In several countries, after all, the training of the staff of companies that offer pet-friendly services is a prerequisite, which comes to cover the training program offered by Ekonav in collaboration with dp Studies.